Recently, I posted about Social Hiking and the experiment to use this service for a trip to India. Although I had discovered this service only shortly before departure, I managed to set up the account in short time, with Twitter as main supplier of location data, while Bambuser was supposed to add some moving images. The plan was not so much to draw a gapless route that would document a part of my terrific life, but to experiment with a new way of promoting our work at Burma Center Prague. Particularly travels are ideal opportunities where NGO staff can blog or tweet about their daily work and thus involve their supporters at home and let them virtually participate. Not only that you owe them some degree of transparency, but you also give them the feeling of being right there at the place where their money makes a difference.
OK, so much for the theory. As a first result of the experiment, my enthusiasm about Social Hiking has not diminished – and that considering that I'm generally not overly fond of sharing all details of my life with the World Wide Web. At Social Hiking, you always have sufficient control of what you post to the public map, or – in my case – where my work ends and my private life starts. I don't want to be tracked on every step I take, and especially if you work with migrants or other clients who don't want to be easily identified, you cannot afford showing off every little detail. So, control and privacy is a must.
The Unshared Adventure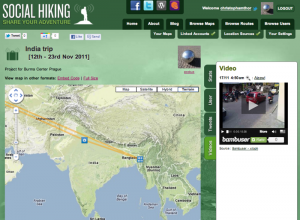 Bambuser, too, is great, but the combination of Bambuser and Social Hiking led to some glitches. The people running Social Hiking later replied that the problem may be caused by different time zones, probably since the videos are placed into the route by comparing their recording time with other data that contains information about time and location. My time zone was always set to Berlin time, and this apparently resulted in most of the live videos being omitted from the map.
The next problem – that, however, cannot be blamed on Social Hiking – is the difficulty to establish an Internet connection in remote areas. My antiquated smartphone needs to access a network in order to produce GPS data, and so I was not even able to retrieve my position when I found myself cut off from the net. Therefore, the route is lacking some stopovers in Dubai (twice) and Kolkota (also twice).
In Aizawl, India, I was disappointed not to find even a single opportunity to use WIFI at hotels, conference venue etc. for sending a location-aware Tweet to my map. Our friend and local coordinator then borrowed me a modem that was plugged into my laptop's USB port for a painfully slow connection, but this didn't help me since my laptop couldn't guess my location.
After some time we finally bought SIM cards1 and I sent a Tweet – my first Tweet after departure – and I even managed to live broadcast a short video via Bambuser:

It took me some seconds to establish the connection. The bandwidth was sufficient to keep up the streaming, while a huge part of the video could be uploaded only after I finished recording. Costs were reasonable2.
I particularly love the live streamed footage that I took from the taxi, on our way back to the airport. I found it really surprising that you could get this working with my outdated equipment and a prepaid SIM card in an area where the usual living standard and the technical development are on a very basic level.

Then, in Delhi, after some more Tweets and a video of a dancing wedding party in the streets of Vikaspuri (see below), I had to learn the hard way that the Indian telephone companies treat the Indian State of Mizoram as some kind of "abroad" so that I was unknowingly paying fees for roaming. Suddenly the credit was zero. When I asked a local phone shop owner in Delhi to investigate into the sudden loss of credits and he called their hotline, he only found out that these guys didn't even know what is "Mizoram". Incredible India.

Alternative Sources of Geo Data
Due to this setback and my unwillingness to pay for roaming inside one country (or, alternatively, to buy an Indian "Mainland SIM Card" that would probably expire before I would set my foot on Indian ground again), I didn't have the chance to experiment with InstaMapper, which I installed in Delhi as additional source of location data only shortly before the total loss of credits.
I did, however, realize while waiting at Dubai International Airport and after – finally! finally! – successfully having established a connection to one of the open WIFI networks, that I could possibly send a geo-tagged Tweet even without a phone or a location-aware laptop. The solution was Firefox in combination with the plugin Geolocater. Here is a screencast on how to use it:

The idea behind it is to post a Tweet (with the pre-defined hashtag) using my location that I have entered manually. Unfortunately, it did not yield the expected results. While the Tweet shows an additional line "from United Arab Emirates", it doesn't seem to contain the correct geo information that is needed for drawing the map. I presently cannot reproduce the issue, because "Geolocater" is incompatible with my version of Firefox. But this plugin might be an option to keep up your location reporting while your GPS phone stops working.
Conclusion
Social Hiking is all about making the software components and their protocols work together, and, of course, about having a data connection. If you travel out of your time zone, you might face some loss of footage, unless the folks at Social Hiking have managed to fix that problem. In general, I recommend to run a pilot trip before you go live with a bigger audience so that you get an idea about what challenges to count with.
Surprisingly, outdated hardware seems to cause only little headache. That's particularly good news for non-profits. I did appreciate, however, to have a netbook in my backpack for occasional workarounds, to sign in to my account, check for additional software, research the possibility of having Internet nearby, and as backup in cases where the phone doesn't do the job.
I'm looking forward to using Social Hiking with my NGO Twitter account, at the latest next time in India. This service is, despite all unavoidable meddling with software and SIM providers, simply amazing and still needs to be discovered by NGOs to be harnessed for their work.
Our European cards didn't connect to the networks, although roaming in mainland India does work. ↩
I don't remember the number now while writing, but I think all experiments here were done after charging 100 Rs. on the card ↩